Chemotherapy is the cornerstone of the treatment of blood cancers (leukemias). The idea is that we need to counteract the mechanism of the uncontrolled proliferation of cells to decrease their count. Chemotherapy is generally classified according to the mechanism of action of each group on malignant cells. Most chemotherapy regimens act on the DNA apparatus, which is the origin of the cancer and the main component needed for the survival of cancer cells.
Vincristine is no novel drug. Its use can be traced back to hundreds of years when it was used in traditional medicine in its plant form, commonly called graveyard plant or Madagascar periwinkle, and scientifically known as Catharanthus roseus. This flower was used to treat diabetes and cancers, although its effect on diabetes was studied and found to be non-existent. But scientific studies also found out that it has 2 important alkaloids: vincristine and vinblastine, and their effect was remarkable in suppressing the bone marrow. Since then, they have been used in the treatment of leukemia. Vincristine is a relatively novel name, however, and its original one was leucocristine.
Uses
Vincristine is primarily a leukemia drug, used in cases of acute leukemias and chronic myeloid leukemia.
Other uses in cancer include Hodgkin's and Non-Hodgkin's lymphomas. In Non-Hodgkin's lymphoma, it is a part of the famous CHOP regime that also consists of cyclophosphamide, prednisone, and doxorubicin.
In Wilm's tumor, which is the commonest kidney cancer in childhood.
Some types of brain cancer.
Small cell lung cancer.
Cancer of the muscles (rhabdomyosarcoma)
How does it work?
Vincristine acts by inhibiting components of the cell called microtubules. Microtubules are essential for many functions in the cell and form what we call a cytoskeleton. This also affects the division of DNA, which is a key step of uncontrolled division seen in cancers.
How is it given?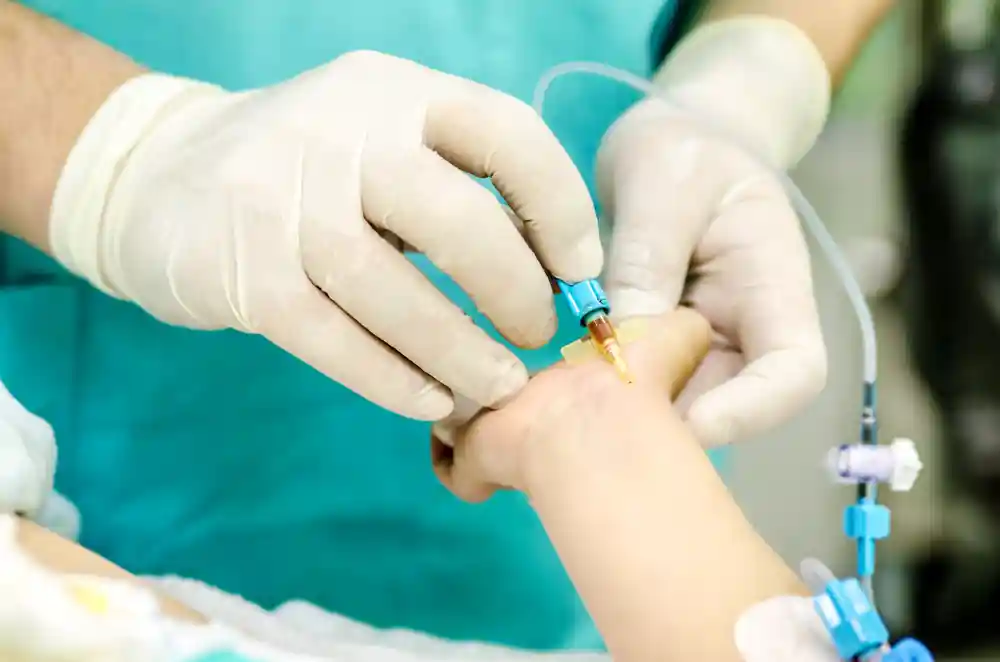 It is only administered by an intravenous route. It can be given as a bolus –all at once in a syringe- or as an infusion. It can be given through a central line -a catheter in your neck- or through a peripheral vein located in your arms or legs.
Vincristine side effects
Hair loss: Hair loss is a common finding in many chemotherapy regimens. The reason behind that is the fact that such drugs affect cell replication, and the most affected cells are those which replicate at a higher rate -that is why they are relatively selective for cancer cells-. However, cancer cells are not the only ones that replicate quickly and many others in the body are affected including hair cells, skin cells, bone marrow cells, and cells of the testes and ovaries. Hair loss is termed Alopecia and, in this case, it is reversible.
Nausea and vomiting: Nausea and vomiting are common side effects of many drugs. They can be related to the tolerance of the gastrointestinal tract to oral drugs, but in chemotherapy, it is rather due to the effect of such drugs on the cells that line the gastrointestinal system.
Constipation: In most cases with chemotherapy, diarrhea can be expected, but in the case of vincristine, constipation is more common which is believed to be due to the effect on the nervous system that supplies the gut. A more severe affection can cause

Paralytic ileus

, which is the cessation of all bowel movements.
Numbness and tingling: Vincristine can have an effect on sensation especially in your extremities, so you can expect to feel a degree of numbness in your arm or leg.

Loss of sensation can also occur in some patients

.
Gait abnormalities: Gait is controlled by our central nervous system which receives impulses from receptors in our muscles. Due to the toxic effect of vincristine on the central nervous system, gait abnormalities can occur in some patients.
Hypo or hypertension: Patients on vincristine can have low or high blood pressure. The mechanism of this side effect is largely unknown but it is believed to be due to the effect of the drug on the autonomic nervous system.
Urinary stones and kidney problems: This is due to the effect of chemotherapy on cancer cells. Cancer cells die at a high rate releasing the byproducts of their genetic material. The most important of these byproducts is uric acid. High concentrations of uric acid can damage the kidneys and, when excreted in the urine, can crystallize and form uric acid stones.
Menstrual irregularities: As mentioned above, chemotherapy has an effect on cells of the ovaries, and since those cells are responsible for the menstrual cycle, this can cause missing or irregular cycles.
Male infertility: Vincristine affects the number of sperm cells, and men on vincristine may suffer from infertility. However, this is reversible in most cases and men regain their fertility after finishing their regimen.
Bone marrow suppression: The bone marrow is the manufacturing plant of most blood elements and nearly all blood cells. Its suppression can cause anemia, leukopenia -decreased white blood cell count- and decreased platelets. Leukopenia causes increased susceptibility to infections while decreased platelet count causes easy bruising and bleeding.
Allergic reactions: This drug has a risk of an allergic reaction if the patient is allergic to any of its components.
Urinary retention: Some patients may suffer from urinary retention, especially old patients. It is believed that this effect is also related to the effect of the drug on the nervous system.
Effect on pregnancy
Most chemotherapy regimens are class D or X, which means that they are not safe for pregnant women. D signifies that it can be used in life-threatening conditions with proven side effects to the fetus, while X means it should never be used in pregnancy as it can worsen the condition and the risk overweigh the benefit.